WELCOME TO JUICE BEAUTY'S ORGANIC FARM, SONOMA COUNTY, CALIFORNIA
WELCOME TO JUICE BEAUTY'S ORGANIC FARM, SONOMA COUNTY, CALIFORNIA
View the Full Unacceptable List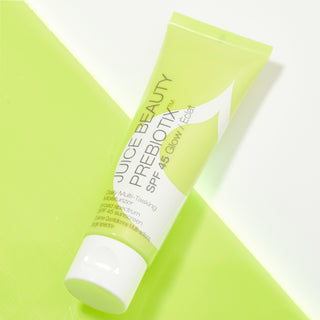 WHAT'S NEW: SPF 45! ANNOUNCING PREBIOTIX™ SPF 45 GLOW, DAILY MULTI-TASKING MOISTURIZER
Glow, protect + blur!
Juice Beauty's Prebiotix SPF 45 Glow, Daily Multi-Tasking Moisturizer lightweight mineral zinc melts into your skin for a hydrated, dewy glow. This multi-tasker is formulated with broad spectrum SPF to protect against the sun's rays. Antioxidant rich emblica flavonoids and high-tech ectoin plants help balance the skin's microbiome.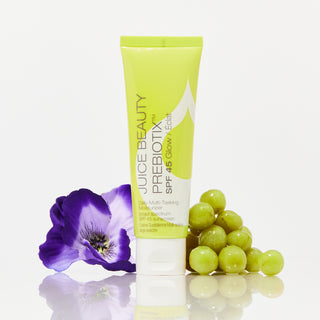 PREBIOTIX™ SPF 45 GLOW, DAILY MULTI-TASKING MOISTURIZER INGREDIENTS
Emblica Fruit - Among the richest fruit sources of antioxidants, this age defy ingredient helps protect the skin from the damaging effects of free radicals and oxidative stress.
Viola Tricolor - Helps skin hydration.
Ectoin Plant - Helps protect skin from pollution and environmental threats.
Inulin - This rich polysaccharide with prebiotic properties, helps rebalance our skin's microbiome and moisture/oil levels and nourishes good micro-flora to help even skin tone and texture.
Jojoba Seed Oil - High in essential fatty acids to moisturize and soothe skin.
Zinc - Sheer mineral zinc to effectively block the sun's harmful rays to decrease the risk of early skin aging caused by the sun and helps decrease the risk of skin cancer caused by excessive sun.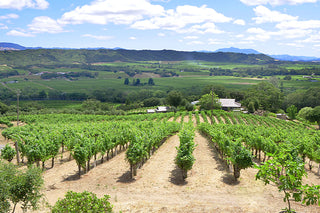 Juice Beauty's California Farm is USDA Certified Organic. Why?
For two main reasons:
1) Organically farmed ingredients produce higher antioxidant levels than conventionally farmed ingredients--> better to fight free radical damage for great skin!
2) To protect our earth, animals and humans from toxic pesticides! We are planting cover crops, such as clover, between the vines to provide natural vitamins and minerals back into the earth, and instead of spraying with synthetic vitamins, we now mist with Kelp to feed the grapevines.
Scientists, Influencers and Celebrity visits! Our friends come and enjoy the 20 acres of rare grapes, our Olive grove with 13 varieties of olives, Green Apple Trees, the stunning views, the Eco-Farmhouse, the salt water pool...all solar powered.