ENVIRONMENTAL + WELLNESS + SKINCARE MISSION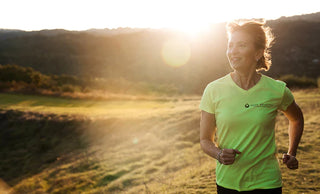 Juice Beauty was born out of lifelong passions of environmentalism, wellness and skincare coming together for Founder Karen Behnke, a serial wellness entrepreneur, who built one of the first corporate wellness companies in the country. As a teenager, she became intensely interested in environmentalism, when she witnessed the devastation from the historically largest PBB spill that happened in her small Michigan hometown. Her lifelong commitment to wellness stemmed from overcoming her childhood struggle with a rare blood disorder, and her healthy beauty products obsession was enhanced with the Founder's pregnancies in her 40's. Karen was experiencing hormonal changes and the beginning of lines in her skin with her pregnancies, so she set out to find healthy skincare solutions that delivered visible results.

Karen's goal was to create luxurious organic formulations that performed better than conventional beauty products. Although skin can absorb what is placed on it, there were very few available healthy personal care products that worked well. In 2005, Karen bought the name "Juice Beauty" and launched the company from scratch wanting to create meaningful change in the industry and thus bringing all her passions together.

Karen led an initial 5-year journey with scientists to solve complex organic formulation challenges. Working with PhD chemists, physicians, and microbiologists to perfect Juice Beauty's chemistry. Juice Beauty's revolutionary formulations started with a basic premise: Karen believed that by formulating with an antioxidant-rich organic botanical juice base, rather than PEGS/petroleum derivatives or water, and combining it with powerful skincare ingredients, would yield better results than conventional or natural products as she was convinced that every organic drop would feed the skin. Multiple clinical testing proved her right and she developed targeted skincare collections, All in for All skin.

Juice Beauty pioneered and is radically transforming the chemistry of beauty. Clinically Validated Results, Authentically Organic Formulations
JUICE BEAUTY IS THE ORGANIC SOLUTION WITH TARGETED SKINCARE SOLUTIONS
Juice Beauty was born out of a passion to deliver high performance yet beyond "clean" skincare. Our skincare collections with Clinically Proven Results target anti-wrinkle, brightening, firming, blemish/oil control, microbiome glow, and makeup with skincare benefits.

We are ALL in for ALL skin.

Antioxidant-rich Certified Organic Ingredients are brought to you Farm to Beauty, from our stunning Innovation Center in Sonoma County, California.

Sustainable practices, Vegan, Cruelty Free, Organic ingredients. Wellness. These are all base values for our mission driven company.

Every Organic Drop Feeds Your Skin.