WHO WE ARE: Our Founder Karen Behnke + Juice Beauty's Story
WHO WE ARE: Our Founder Karen Behnke + Juice Beauty's Story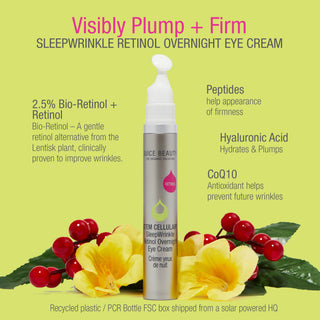 NEW Scientific Technology, Organic Innovation
STEM CELLULAR SleepWrinkle Retinol Overnight Eye Cream
Clean organic ingredients. 2.5% Bio-Retinol + Retinol encapsulated in Evening Primrose. Peptides + Hyaluronic acid to visibly firm + plump for youthful results. Advanced Retinol technology and nourishing creamy texture for extra overnight care of the delicate eye area.
BENEFITS:
Minimizes signs of sleep wrinkles that develop overnight, with Bio-Retinol + Retinol (Vitamin A) encapsulated in evening primrose with fruit stem cells.
Peptides and Hyaluronic Acid for firming and plumping appearance.
Fight free radical skincare attacks with antioxidant powerhouses CoQ10 (ubiquinone), Vitamin E, green tea and nutrient rich organic grape juices.
Moisturize luxuriously with jojoba, coconut, and shea butters.
Feed your skin with Vitamin B5.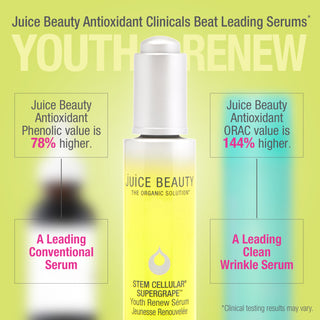 Clinically Validated, Organic Innovation
STEM CELLULAR SuperGrape Youth Renew Serum with Hyaluronic Acid
Renew skin appearance with enhanced bounce! Silky SuperGrape Youth Renew Serum is made with the rare Sagrantino Grape for ultimate Anti-Wrinkle antioxidant power. Hyaluronic Acid, Arginine & Jojoba esters for a plump smooth appearance. Exclusively Farm to Beauty Reserve from Juice Beauty's Certified Organic farm.
BENEFITS:
Clinically Validated more youthful and renewed skin appearance from the rare, organic Sagrantino SUPERGRAPE grown at Juice Beauty's Sonoma organic farm. Farm to Beauty, Reserve.
Key Anti-Wrinkle product with daily age defy improvements from the rich grape ingredients, Vitamins C, B5 and E, and organic shea butter, borage, rose hip, flaxseed oils.
Skin Bounce appearance improvement with hydration, plumping and smoothing benefits from hyaluronic acid, prickly pear, jojoba esters.
Silky and smooth glide on serum that you will love!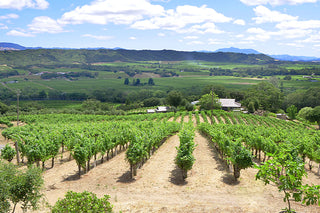 Juice Beauty's California Farm is USDA Certified Organic. Why?
For two main reasons:
1) Organically farmed ingredients produce higher antioxidant levels than conventionally farmed ingredients--> better to fight free radical damage for great skin!
2) To protect our earth, animals and humans from toxic pesticides! We are planting cover crops, such as clover, between the vines to provide natural vitamins and minerals back into the earth, and instead of spraying with synthetic vitamins, we now mist with Kelp to feed the grapevines.
Scientists, Influencers and Celebrity visits! Our friends come and enjoy the 20 acres of rare grapes, our Olive grove with 13 varieties of olives, Green Apple Trees, the stunning views, the Eco-Farmhouse, the salt water pool...all solar powered.