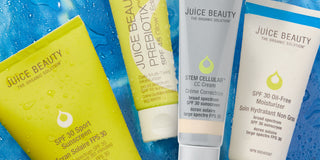 Screen Your Sunscreen
We stand for "NO-CHEMICAL" sunscreen ingredients to help you make a healthy choice for you, your family and the planet.

SCREEN YOUR SUNSCREEN FOR THESE INGREDIENTS:
Oxybenzone, Avobenzone, Synthetic dyes or fragrance, Silicones or Parabens

WHAT TO LOOK FOR IN YOUR SUNSCREEN:
1. Zinc Oxide 2. Organic ingredients. Did you know that the FDA has only approved 2 sunscreen ingredients for safety? They are both mineral ingredients: Zinc Oxide and Titanium Dioxide.
Beyond Clean "NO-CHEMICAL" Mineral Zinc Sunscreen Ingredients
Juice Beauty's new sheer = no white cast!
Juice Beauty's new "melt into your skin" zinc is a luxurious SPF that leaves no white cast and is healthy for you and the environment. Plus antioxidant-rich organic ingredients help fight free radical attacks on your skin to replenish and give you a youthful glow.
Learn More About Our "NO-CHEMICAL" Mineral Zinc Sunscreen Ingredients
Our SPF products are all multi-taskers with NEW sheer melt-into-your-skin zinc, our highest SPF to date with breakthrough fermentation technology and ultra-hydrating oils, plant pigment shades (no synthetic dyes), and organic antioxidant rich ingredients.
New PREBIOTIX™ SPF 45 Glow, Daily Multi-Tasking Moisturizer: This revolutionary moisturizer with our highest SPF melts into all skin tones, hydrates, and produces a healthy glow using unique ingredients like emblica flavonoids, ectoin antioxidant rich plant, hydrating viola, and inulin-rich polysaccharides.
New SPF 30 Oil-Free Moisturizer: Helps protect your skin's moisture balance with hyaluronic acid, algae, pomegranate and cucumber. Hydrates and leaves a matte finish. Perfect for blemished, irritated or oily skin.
New SPF 30 Sport Sunscreen: 80 min water/sweat resistant SPF 30 is the perfect active sunscreen for everyone, including kids. Rich organic jojoba and coconut oils hydrate while enjoying any outdoor activities with ultimate sun protection but without that "white" cast.
Our best-selling STEM CELLULAR CC Creams, which come in 7 plant-pigment and hydrating shades. Ideal for all skin types and especially beneficial for skin showing the signs of aging including fine lines and wrinkles.

Sunscreen Safety: Frequently Asked Questions